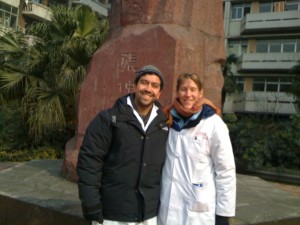 In the Taoist conceptualization of human consciousness, there are two concepts that I find particularly helpful in quest to live an authentic and balanced life. One is called the shen zhi and loosely translates into our personality or the acquired mind. The shen zhi is considered to be the post natal aspect of our mind that is influenced by culture, emotions, thoughts, and daily activities and stressors. It is the combined consciousness of the five organ spirits, and it plays an important role in driving our actions in the world.
The other is the yuan shen which literally means the original spirit and is what you might think of us your soul or your inner guidance or intuition. These two aspects of ourselves are interdependent, as well as interactive.
There is a Taoist saying that explains the relationship between the two, "The mind must be led by a Master: the yuan shen must be that master and must lead the Heart's Shen Zhi as One Mind."
The acquired mind is active and is sometimes called the monkey mind because it can get caught up with the worries, fears, distractions, and illusions of daily life. If you have ever engaged in meditation, you likely know it well. It is the voice that is making the to do list, assessing the stain on the floor that you could never get out, determining what you will be cooking for dinner, analyzing the conversation you had with your best friend about the argument you had with your spouse, etc. It can spin a story using all the information at your disposal that will thoroughly engage you, but that is usually completely and totally wrong. More importantly, it can keep us from sinking and settling into that calm, peaceful knowing of the yuan shen.
There are so many meditation practices and traditions that aim to tame the acquired mind. Some try to silence it, some to observe it, and some try to completely cut it off and out of our consciousness. But no matter what we do it still pops up with its latest thought, usually bringing us back in to the visceral world of our five senses and the logistics of living in the world. It does have an important purpose and is quite useful. It helps us organize our lives and engage with the world around us and to get simple things done to manage our life in the world, like laundry and paying the bills.
The problem happens when the monkey mind is driving the car alone without the guidance, wisdom, or the presence of the yuan shen. If the monkey mind becomes too active it can cut out the wisdom of the original spirit completely, and literally function as an independent, rather than interdependent aspect of ourselves. The goal is to have our yuan shen present and guiding us, working in partnership with the shen zhi.
In comparison, the yuan shen, is that quiet voice and inner knowing that helps you make a difficult choice that feels right. Sometimes the decisions the yuan shen guides us to may not make logical sense in the moment (read make sense to the acquired mind) but turn out to be the best possible one.  It is the voice or the feeling that can cut through all of the denial, the fear, the uncertainty and give you a sense of purpose.
When I first met Andres several years ago, we decided to take a trip to China for six months to live and study Chinese medicine together. We began talking about it a week after we met and had pretty much finalized our decision after knowing each other for about two weeks (the picture above is of us in China). We had only been dating five months when we boarded the plane for China together. Despite the quickness of the decision and the elaborate logistical configurations it took to leave my herbal practice, store all my belongings, and leave my very (very) beloved cats (and my shen zhi's occasional anxiety and worries), I knew it was absolutely the right one for me. And it turned out and continues to be one of the best decisions I have ever made. I am, as ever, deeply thankful to the wisdom and guidance of my yuan shen and its beautiful guidance.
In my daily meditation and qi gong practice, I enter in to states of calmness, joy, peacefulness, really blissful states of being in which I feel alive, connected to the living world around me. The universe inside myself is open and accessible to me in those moments, accompanied by a sense of expansiveness, trust, and joy. In the middle of that state, I will inevitably feel the pull of that voice of my personality telling me it is time to come back and go take a shower and get ready for work or check email or cook dinner or whatever is next on my list of things needing to be done. That voice pulls me back to the concrete world of tangibility and logistics. Sometimes I am excited and more than ready to go back to the world and get started on something. Other times I put it off and stay in my inner sacred, inner sanctuary a bit longer. But every time I connect with yuan shen in meditation, that process helps me to hear its guidance more fully when I act in the world.
The Role of Qi Gong
The practice of qi gong is a way the Taoists found to help ensure that the yuan shen could get a word in the conversation. Qi gong offers tools to differentiate and integrate our soul and personality so that they are moving us in the direction of our highest purpose and good. Qi gong can show you how to develop the focus and awareness to understand the insecurities and the strengths of those aspects of our personality and give you specific tools to help them work together more seamlessly under the yuan shen's direction.
Andres and I often call Chinese medicine the road map for understanding how to live the healthiest life because it gives a description of the inner workings of our inner infrastructure and then offers specific tools to connect to that infrastructure and to coordinate the actions of all of those moving parts into a happy, healthy functioning soul team.  The foundational practices you learn first teach you to connect to your own inner infrastructure. This inner infrastructure are your five organ spirits that represent the five functions and aspects of your body, mind, spirit. They are the heart (emperor/emperess), the lungs, the spleen, the liver, and the kidneys. They are your soul team.
With our CD, Qi Gong For Radiant Health, you learn how to connect with those five organs or shen that represent the five aspects of our mind, body, spirit or the personality. You can develop a greater awareness of each of them, as well as release any emotions or energies that you have stored in the navigation of life and its stressors. You are building a relationship with your organs and inner infrastructure with these practices, and including them as a conscious part of your life.  With these practices, you are also developing your ability to focus your intention on supporting the health of these important aspects of your body, mind,spirit.
In the second CD, Qi Gong for Emotional Health, you develop the virtues and wisdom of these five aspects of your consciousness so that you can transform emotional patterns that do not serve you. The innate virtues are compassion and kindness of the liver or Wood element, unconditional love and sense of order of the heart or Fire element, deep trust of the spleen or Earth element, integrity and strength of the lungs or Metal element, and wisdom and stillness of the kidneys or Water element. At this level of practice you learn how to integrate these five aspects of your personality so that they can work together as a team for your highest good. These practices on this CD build on the skills you learn in Qi Gong for Radiant Health and help you to integrate these aspects of yourself so that they are working together for your highest good.
As always if we can be of assistance to you in your healing journey, please contact us at 336-739-0317.
Michele Collins Vergara and Andres Vergara