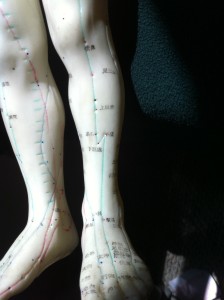 In Chinese medicine, the earth forms the center of a five element configuration of any given human being. Many traditional systems, like
Ayurveda
and Native American systems, understand
each human body as a unique combination of the natural elements
, with each system identifying and working with specific elements, such as water, earth, wood, air, etc. The purpose of using natural elements in identifying body systems is to have an easy, succinct and efficient way  to explain and to address any imbalances in a given human being.
In the Chinese system, the five elements are water, wood, fire, earth, and metal.  Unique in Chinese medicine, the earth is thought of as the primary and center element. There are many historical reasons for this, such as that the Chinese believed that they were the middle kingdom, however one need not look further than our anatomy and basic chinese energetic medicine to see some wisdom in this. The digestive tract sits at the anatomical center of our body.
The organs of digestion in the Chinese system, the stomach and spleen/pancreas, are the organs of the earth element. Any deficiency in these organs is believed to cause a corresponding deficiency in the small and large intestines, as well.  In Chinese medicine, the spleen and stomach are an important part of the process for converting what is known as post natal qi into usable energy. Post natal qi or energy is the life-force energy that comes from our surroundings Post natal qi contrasts with our equally important prenatal qi, which corresponds with our genetics and the amount of energetic potential that we are born with.
Essentially, what we eat (an important foundation of our post natal qi) and how we eat it (to allow our digestive organs to easily assimilate it) is of great importance.
To learn more about how what we eat impacts our health,
read our earlier article
. Equally important, though, is the health of our digestive tract and our organs' ability to assimilate food and use it as energy. If we eat a perfect diet but our organs cannot properly assimilate and transform the food consumed then we will get only a fraction of the nourishment that we could be getting.  This, in turn, will still impact our health further over time.
There are multiple acupuncture points known to affect the digestive system, these include CV12 (conception vessel) found 4 chinese inches above the umbilicus or roughly where the stomach can be found, LV13 (liver channel) which improves the function of the spleen, ST36 (stomach channel) found on the lateral aspect of the leg inferior to the knee, and many others. These points are good for symptoms such as: fatigue, loose stools, a feeling of weakness in the limbs, abdominal fullness, nausea, pain in the stomach or digestive tract, acid reflux, anxiety, overthinking, worry. All of these symptoms reflect an earth element, or center, that is off balance, acupuncture can be very helpful for these symptoms. Equally important are food/Chinese nutrition, herbs, and qi gong (i.e. the other three branches that we offer), as they can all be used to focus on and strengthen specific aspects of  of the digestive tract, in much the same way that acupuncture can.
Acupuncture and the 4 branches are very good for all types of digestive issues and correlating symptoms such as fatigue, chronic fatigue, heaviness in the limbs, anxiety, overthinking and worry. By strengthening your center, your earth element, one can feel calm, steady and once again experience great health and vitality.
Here are some simple tips about food and diet to help you care for your inner Earth element.
1.  Consume neutral, nourishing foods. The majority of food consumed should fall into the neutral range of the continuum, which means vegetables and proteins like legumes, whole grains and some meats.  Most of the foods in this category have a "sweet" flavor according to traditional healing systems classification of foods.  Sweet flavored foods are deeply nourishing (and are often what the body needs instead of sweets or carbohydrates like breads or pasta).
2. Be mindful of foods that dampen digestion. Foods that have a cooling and dampening effect on the body can reduce the body's ability to digest and assimilate your food.  These foods include: raw foods, ice cream and frozen foods, sugar (especially white refined sugar), soy products (unfermented), floury products, and dairy products. This is especially important in winter when your body is adjusting to the colder external temperatures or when you are sick or have diminished energy.
3.  Give your food your full attention.  Remember that the body has to digest everything your experiencing in that moment, including your food, your reading material, or your emotions. You greatly help your body by giving it a space to do the work of digestion and not distracting yourself trying to do too many things at once. 
4. Have a moment of gratitude for food before eating it. Before you eat take a moment of gratitude for your food and welcome it into your body.  We recommend simply smiling at your food before eating it.  Everything loves a smile!
5. Limit flour products (anything with flour). Flour creates glue in the digestive tract. You can switch out pasta to quinoa or brown rice pasta or whole grains such as quinoa, barley, or amaranth.