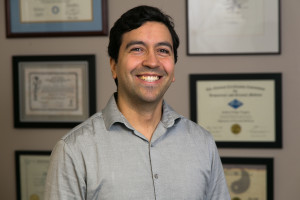 Andres Vergara, Dipl.OM,  L.Ac, M.Ac is a Diplomat of Oriental Medicine, a licensed acupuncturist, Chinese herbal practitioner, medical qi gong therapist, and a qi gong instructor. A Diplomate of Oriental Medicine is a practitioner who is certified by the National Certification Commission for Acupuncture and Oriental Medicine (NCCAOM®) and has met the certification requirements for both acupuncture and Chinese herbology.
It is a considerable professional achievement to earn the designation Diplomate of Oriental Medicine (NCCAOM). NCCAOM certification indicates to employers, patients, and peers that one has met national standards for the safe and competent practice of acupuncture and Chinese herbology as defined by the acupuncture and Oriental medicine (AOM) profession. For additional information, about the Diplomate of Oriental Medicine, please visit the NCCAOM Website.
He practiced acupuncture and Chinese herbal medicine in MD and now practices at the Naturopathic Health Clinic in Winston-Salem North Carolina. While he has a general practice, he has particular experience in treating pain,anxiety, arthritis, depression, allergies, migraines, dizziness, vertigo, urinary problems, tremors, digestive disorders, asthma, gynecological issues, chronic fatigue, autoimmune disorders,dermatological conditions and insomnia. As an additional resource, Andres offers meditation, qi gong and tai chi classes to his clients and has been practicing these methods for over a decade.
He graduated from the Tai Sophia Institute in January 2007 where he received his M.Ac. He is licensed to practice Acupuncture in the state of North Carolina. In addition, he also trained in Chengdu, China for 6 months where he studied the use of herbs in a Chinese hospital that uses both allopathic and traditional Chinese medicine.
He has also studied with a number of well regarded teachers of Chinese medicine including Lonny Jarrett, Dr. Tan, and Bob Flaws. He recently spoke at the Natural Triad/Wake Forest Integrative Medicine Seminar Series about his experience in China, and about the broad range of effectiveness of Chinese herbs.  He is currently studying medical qi gong with Wendy Lang and the International Institute of Medical Qi Gong curriculum introduced by Dr. Jerry Allen Johnson.
He has also written numerous articles in the Natural Triad about acupuncture and herbal medicine and has been published in the peer reviewed Journal of the American Herbalist Guild. He co-hosted, along with Michele Collins Vergara, the internet radio show Holistic Healing with Herbs and Chinese Medicine.