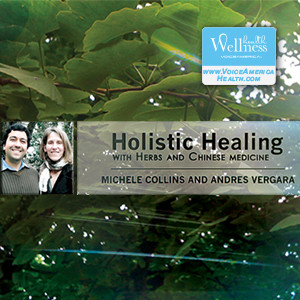 Holistic Healing with Herbs and Chinese Medicine was an internet radio show we created for VoiceAmerica's Health and Wellness Channel.  We presented ways in which herbs, acupuncture, food, and qi gong can be used to address common chronic and acute health problems.  During the course of the 14 show series, we explored a wide range of issues including the presentation of solutions rooted in Chinese medicine for different health issues such as the common cold, pain relief, male and female infertility, and weight loss, as well as issues such as plant and habitat conservation, how to address the emotional and spiritual roots of disease, and the spiritual science of qi gong (among others).  Through the course of years of  studying and searching out experts in Chinese medicine, herbal medicine, and qi gong, we have encountered many excellent people, organizations, and resources that we were able to highlight in the different shows.  We were also able to draw on our clinical experience, personal experience, and time in China to illustrate the ways that the different and diverse branches of Chinese medicine can contribute to addressing chronic and acute diseases, as well as the pursuit of radiant health.
Listen to the Individual Shows
To access the recordings of the individual show, click on the links below.
Intro to Chinese medicine: Chinese Medicine 101 – In this show we provide a broad overview of the basics of Chinese medicine. In addition to tracing some of the history of Chinese medicine, we talk about research that has been conducted both in the U.S, other western countries, and in China that illustrate some of the benefits of Chinese medicine. Our three guests are practitioners of Chinese medicine who, along with ourselves (the hosts), use different modalities within the framework of Chinese medicine to best address health and wellness among their clients. This segment highlights the broad effectiveness of Chinese medicine and educates the listener on some of the history, research, and therapeutic modalities that can be used for a variety of health issues.
Combining Science and Chinese Medicine for Sustainable Weight Loss – This show addresses how lifestyle, diet and herbs can be combined for a sustainable weight loss program. We emphasize traditional Chinese medicine theories of weight gain, as well as how they can be integrated with western approaches. Our guest is Keoni Teta, a Naturopathic doctor, Acupuncturist, and co-author of the Metabolic Effect (ME). He is co-owner with his brother Jade of the weight loss company The Metabolic Effect emphasizes a holistic, science-based approach that includes, diet, nutrition and herbs in a biochemical context to maximize weight loss during the resting state. ME focuses on changing the hormonal response to exercise and diet to naturally regulate fat burning, appetite, and mood, thus enhancing motivation to exercise and reducing food cravings. Drawing on Keoni's unique background in Naturopathic and Chinese medicine, we explore how traditional Chinese medicine and modern science can both be used to maximize healthy and sustainable weight loss.
Herbs and Chinese Medicine for the Flu, Common Cold, Allergies, and Asthma – In this show we discuss detailed information concerning the acute prevention and long term prevention of flus and colds using Chinese medicine, herbs, and lifestyle. Using the diagnostic lens of Chinese medicine we discuss how common foods and herbs can be used to address and resolve cold and flus at different levels of development in accordance with their symptoms. In addition, we explore how to adapt food, herbs, and lifestyle with the seasonal weather shifts to best optimize health. Learn how to treat yourself and family members with common foods and herbal resources.
Our Food Can be Our Medicine – The food we eat is important not only as a fuel for our physical bodies, but it is also an important resource that can enhance our health and well being. In this segment, we discuss how food can be used as part of a healthy lifestyle for living in harmony with the Tao, or way of the nautral world, as well as to aid in the treatment of different health conditions. In many traditional healing systems such as Chinese medicine, foods are classified according to their healing properties, and some, like walnuts, certain vegetables, fruits, and legummes are even included in the materia medica and used in formulation with other herbs to treat various health concerns. We explore how food should be selected and prepared on a seasonal basis, as well as how to integrate all these aspects of food and diet, to not only optimize health and prevent health concerns, but to best treat common imbalances.
Pain Relief with Chinese Medicine – Herbs, as well as acupuncture, are excellent tools for resolving the many ways pain can present itself without the harmful side effects of pharmaceuticals. In this show we explore relevant research and techniques for resolving both acute and chronic pain from a Chinese Medical perspective. Chinese medicine classifies and discerns specific root causes of pain. Understanding the root cause of pain is essential to resolving the symptom of pain. We provide examples of cases of severe pain conditions they have effectively resolved, showing how it is possible to avoid surgery and chronic pain, including an interview with a former client who describes how herbs and acupuncture helped him with a chronic pain issue.
Qi Gong; The Spiritual Science Behind Chinese Medicine – Qi gong is the living and breathing application of Chinese medicine. It is a spiritual science that uses sound, slow movements, and meditation to potentiate subtle health processes in our body which ultimately lead to greater and more radiant health. This is why Dr. Oz says if you want to live to be 100, do qi gong. In this show, we interview Michael Winn about how qi gong works and how it can be adapted for westerners. Michael Winn is an internationally regarded teacher of qi gong, who hosts the largest Taoist retreat program in the west, and has done so for the last 18 years. He has 33 years of qi gong experience and has authored many dozens or articles and co-wrote (with Mantak Chia) seven books on the subject.
How to Address the Underlying Emotional, Mental, and Spiritual Roots of Dis-Ease – In this episode we discuss how to deal with the deeper emotional, mental, and spiritual causes of disease and illness. Our guest, Lesley Tierra, RH (AHG), L.Ac., nationally regarded acupuncturist, herbalist, author, and teacher, is the author of the new book, Metaphor-Phosis. In her book, she writes about how to use tools for inner growth to identify and transform the root causes of health issues. In this ground breaking book, she tells how we can unearth the subconscious stories that can hinder us from being happy and healthy, and write new, positive stories for ourselves. You will learn more about how you can transform the subconscious stories that are draining you and keeping you from creating the life you want.
Protecting Plants and Their Native Habitat for Future Generations – Herbs and plants are an amazing natural resource, the health and abundance of which is crucial to the practice of herbal medicine. In this show we will explore the current state of popular medicinal plants such as American Ginseng (Panax quinquefolius) and what consumers can do to ensure the sustainable use of these herbal medicines. Our guest is Susan Leopold, the Executive Director of United Plant Savers, a nonprofit organization whose mission is to protect native medicinal plants of the United States and Canada and their native habitat. For any plant lovers and consumers of herbal medicine alike, it is important that we understand our individual and collective roles in ensuring that these plants are not used to extinction, but are protected for future generations.
Lessons Learned from China about Integrating Herbs with Western Medicine – This episode of Holistic Healing with Herbs and Chinese Medicine focuses on the lessons we can learn in the West about how Chinese medicine is practiced in China. Michele and Andres spent six months studying Chinese herbal medicine in an integrative Chinese hospital, where herbs and allopathic medicine were combined to treat a comprehensive array of health issues, including many common and complex western diseases such as diabetes and cancer. They also studied with private Chinese herbal medicine doctors, including Dr. Yong Jiang, a professor and student of one of the 40 recognized living Traditional Chinese Medicine herbal masters in China and co-author of The Treatment of PTSD with Chinese Medicine: An Integrative Approach. We share what we learned from their experience in China, as well as how these lessons have not only informed, but improved their effectiveness with herbal medicine.
Tonic Herbs for Radiant Health – In Chinese medicine and Taoist traditions, there is a rich and nuanced understanding of how herbs can be used to prevent disease and promote radiant health, similar to how some use vitamins in the west. These herbs are referred to as tonic herbs or adaptogens because they can be taken regularly and consistently for long periods of time and are, as a result, often used as super foods. These herbs promote health and longevity and help the body to adapt to emotional, physical and chemical stressors. They can help people recover strength and vitality after chronic illness or health issues, such as cancer, as well as be used for general wellness and for physical stamina. On this episode of Holistic Healing with Herbs and Chinese Medicine, we discuss this rich history, as well as a growing body of research that supports this longstanding tradition.
Living in Harmony with the Seasons: Lessons from Chinese Medicine – Each season the natural world gives us important clues as to what is happening within our bodies and how to best adjust to the changing weather. Traditional healing systems, such as traditional Chinese medicine, provide a structure to help us discern what foods and lifestyle choices will best support us as we cycle through the seasons. When we heed nature's cues and allow our life practices to mirror the seasonal transformations, we tend to not only feel better, but are also better able to prevent the kinds of illnesses and disharmonies that typically occur during seasonal transitions and extremes. In this show, we describe how you can use the seasons to not only understand the types of ailments you are more susceptible to during season change and extremes, but also how you can use nature to guide food and herb choices throughout the year to maximize your own health and well being.
Infertility and Effectiveness of Chinese Medicine – On this episode we discuss infertility, an area in which Chinese medicine can make a tremendous contribution for both men and women's health. Recent studies have shown that Chinese herbal medicine is twice as effective as western medicine in promoting pregnancy for women. We discuss Chinese medicine's perspective on the leading causes of infertility for both men and women, as well as why Chinese medicine is shown to be more effective than western medicine. We interview a client who was successfully treated with herbs for infertility. In addition we talk with Boyd Bailey, L.Ac., M.Ac., an acupuncturist who successfully treats infertility in his practice.
Indigenous Healing Systems and Their Similarities and Differences to Chinese Medicine – On this episode of Holistic Healing with Herbs and Chinese Medicine, we talk about traditional healing systems. We present a summary of an interview Andres conducted with Isaias Ramon, a shaman and healer from the Vetoto Amazonian tribe in Colombia. We explore some of the cosmology of the Vetoto tribe, the underpinning theories of Isaias' medicinal work, the history of the Vetoto tribe and its culture, as well as Isaias' personal story. We also compare these theories with those of Chinese medicine and other ancient forms of medicine, noting the similarities and key differences.